Hello everyone! I wanted to know your opinion about two things:
Monobbok Logo
I'm making a logo for Monobook (monobbok is a skin to see the wiki like Wikipedia, you can select it in your preferences). What do you think about it? It's not finished.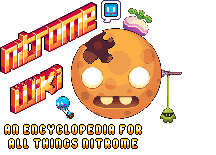 Background 2.0
In Easter I could have enough time to make a "normal background 2.0", redesigning it completely. Since the greatest games page in Nitrome has been changed, how about using the favoutite games from the users?

Comment and talk about what do you think.
Ad blocker interference detected!
Wikia is a free-to-use site that makes money from advertising. We have a modified experience for viewers using ad blockers

Wikia is not accessible if you've made further modifications. Remove the custom ad blocker rule(s) and the page will load as expected.