We all know about the game Fluffball being the only game we know that was unreleased. Not like Spacescape that has no proof of its true existence, Fluffball was actually playable on different website, Miniclip. Here are some of my theories why they didn't release the game.
Remember Sucknblo?
Sucknblo was a game that was cancelled because of boredom. Yes, boredom. Fluffball may have been removed for the same reasons. But why? As you may notice, Fluffball looks like a very easy game wherein you have to golf your way to the end. It's not a hard nor challenging game. Without any challenges, the game was plain and boring, at least in my opinion. Losing in the game would just be a "Dumb Way To Die".
Another thing that it's like Mallet Mania. Not quite exiting, to be called a main game.
Remember the games that had difficult controls?
Tanked Up really reminds me of a game I played in an arcade where you have to spend all your money just to practice the game. Tanked Up is really hard when you need to control both the arrow keys and the mouse in a race. Sandman's controls may hurt some people's hands for holding the mouse too long. Luckily, these games didn't get canceled. However, Fluffball was somehow frustrating when moving the ball around. He sometimes crosses the line of stars (the golf club). Using the mouse to do this was a bit hand-unfriendly to move the Fluffball.
Bugs
The game is beta and buggy. I do't like how the sreen pans just when you reach the edge of teh screen while you're controling the stars which in result, you may actually stop him from going to where you want him to be because the wall of stars oved it's position. (Got that?) I even found a glitch where you can go oitside the island.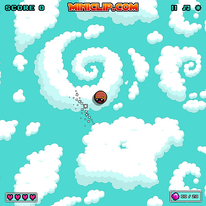 I'm not saying that the game is bad, although Nitrome might have thought so. The graphics aren't bad, the way Fluffball was programmed to have a rolling sprite animation was a great effort. (Notice that he actually has two faces) Good music, calming graphics.
Just to tell you that I like the game. But yeah.
Ad blocker interference detected!
Wikia is a free-to-use site that makes money from advertising. We have a modified experience for viewers using ad blockers

Wikia is not accessible if you've made further modifications. Remove the custom ad blocker rule(s) and the page will load as expected.