Hello again, if you go to Nitrome's main page, you'll see that Hot Air Jr. did not reach no.1. It's already a long time after the release and right now, I expected the game to be top 1. But (not very) surprisingly, it's just 2'nd place. That's the first game/demo that didn't reach number 1 in the Noitrome 2.0 era. Meaning, it isn't that good.(I also did not heart it) NOBODY has a blog post about it. The physics was the problem.
A NOTE TO PEOPLE OF THE FUTURE:
If it has reached no.1 at your time, don't say I'm wrong. Here's a pic: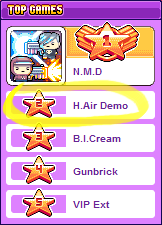 Ad blocker interference detected!
Wikia is a free-to-use site that makes money from advertising. We have a modified experience for viewers using ad blockers

Wikia is not accessible if you've made further modifications. Remove the custom ad blocker rule(s) and the page will load as expected.