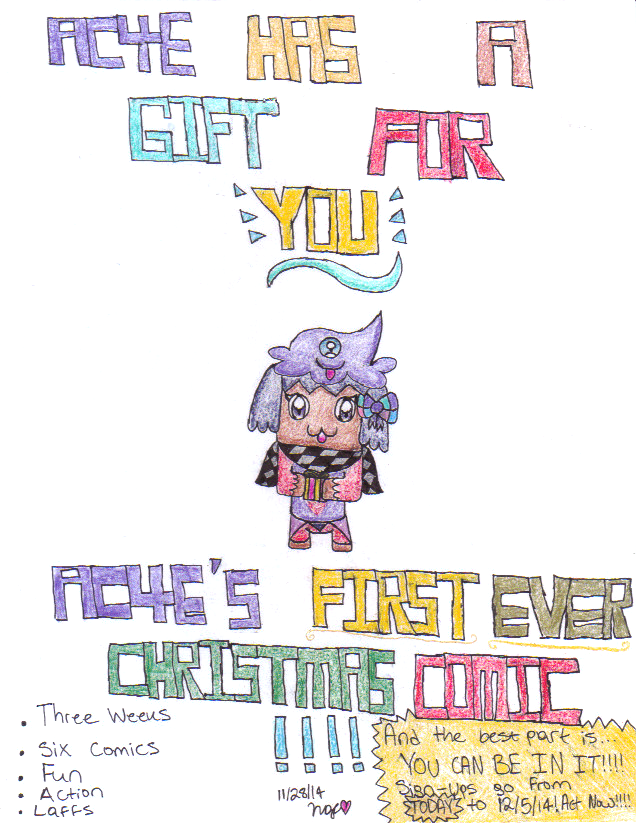 Hey guys, how's it going? It's me, AC4E!!!!
This year for Christmas, I've decided that instead of doing my usual Text-Only special, I'll be doing a Christmas Comic!!!!
Austin: What's in it for me?
Well... *Kisses Austin*
Just like my other comic NMDFanfictionMon, you can sign up to be IN the comic! In the format given below, you can sign up in the comments!
Appearance (What you see yourself most as your representative icon i.e my avatar)
Your Powers (What you are capable of. Please don't make yourself OP though... i.e Can Materialize Nukes with free will)
Pets (optional)
You can sign up from TODAY to Friday, December 5th, 2014. The first two Christmas Comics will debut on the same day and the day after, no more sign-up requests will be taken.
Also, for the entire duration of the Christmas Comic, there will be no new NMDFanfictionMon unless if I salvage the time to make a new episode.
Readers, Please Help Me Decide!!!!
Which version of Carter should appear?
Which version of Bennet should appear?
The top two votes will appear in the Christmas Comic! :3
If you have any additional requests besides Sign-Ups, please place it in the comments below!
Thanks for reading and voting! I hope you sign up! <3
Ad blocker interference detected!
Wikia is a free-to-use site that makes money from advertising. We have a modified experience for viewers using ad blockers

Wikia is not accessible if you've made further modifications. Remove the custom ad blocker rule(s) and the page will load as expected.