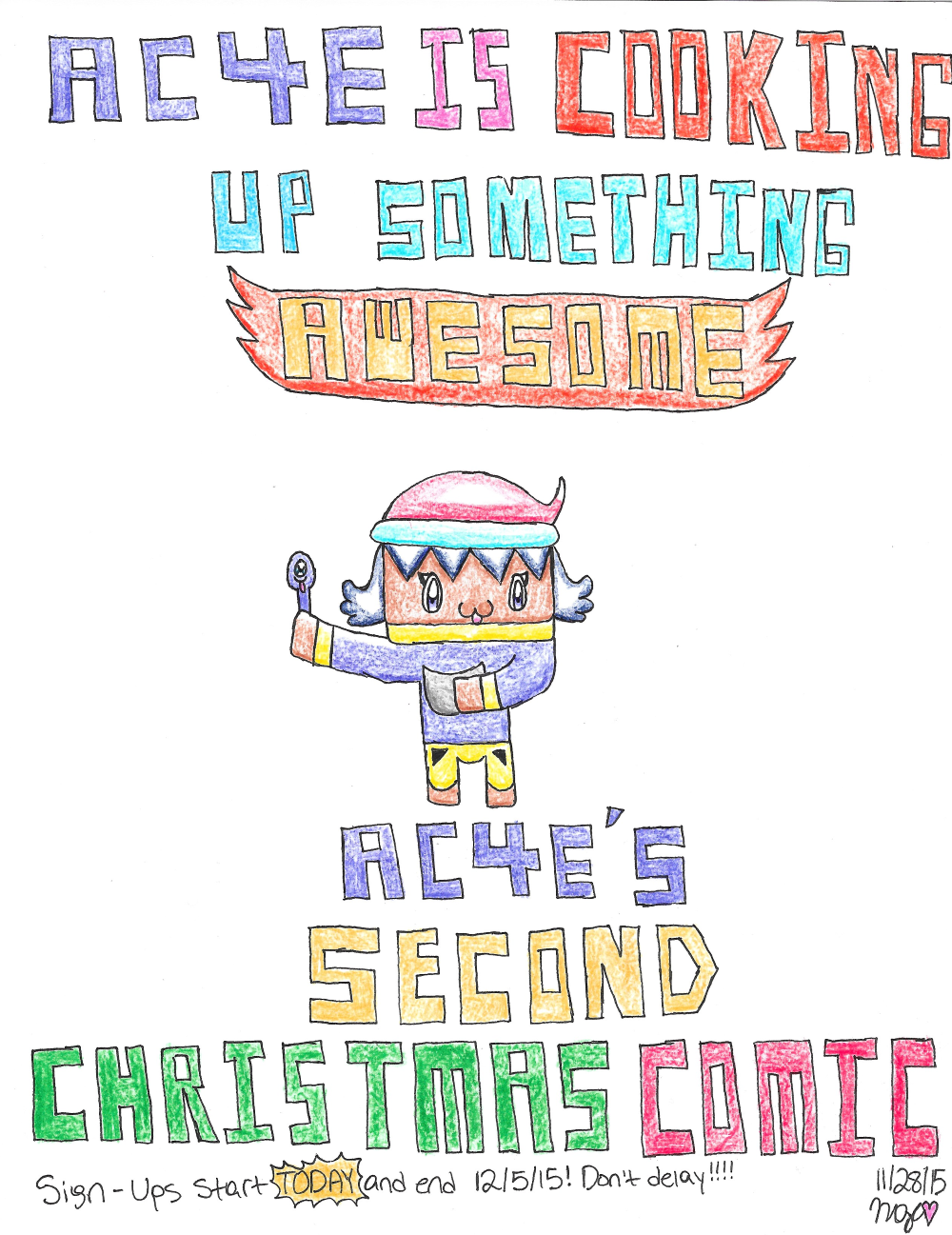 'Sup, Everybuddy? This is AC4E!!!!
Last year, I thought of making the Christmas Comic be a one-time thing. However, I had too much fun writing it last year and I'm sure everyone who signed up had fun reading it last year! So I'm gonna be doing ANOTHER Christmas Comic! It will be called Christmas Comic 2015!
I would have called it "Christmas Comic 2", but this isn't a direct sequel to the first one. Fatta (Santa Nitrome Boss) and The Christmas Spirit will be in this, but they won't be doing much. Sitting at home watching Christmas Specials on television is probably the most that they'll be doing :P
This year will be slightly different with its release schedule. It will be three comics the second week of December and three comics the third week. I'll be busy the first week, so I won't be able to release any comics.
Just like last year's comic, here's what you'll need to comment below (in this format with/without the numbers) in order to be signed up for 2015's Christmas Comic!
1) Your General Appearance (What you see yourself most as your representative icon i.e my avatar)
2) Your Powers/Abilities (What you are capable of. Please don't make yourself OP though... i.e Can materialize Nukes with free will)
3) Your Pets (optional)
You can sign up from TODAY to Saturday, December 5th, 2015 (12/5/15). For my readers, there will be no new NMDFanfictionMon OR Dragon Fails while this is going on.
One last thing...
Like I did for last year, I'd like for there to be another vote on which Carter and Bennet variations appear. This year, I decided to expand the floor so that it's more than just variations of them. In addition to picking which Carter and Bennet variations appear, I'd also like you to vote for one of their former formes to appear!
Which Carter Variation should appear?
Which of Carter's Former Formes should appear?
Which Bennet Variation should appear?
Which of Bennet's Former Formes should appear?
Top two votes for variations will appear in the comic and the top Former Forme votes will appear in the comic! Hope your vote wins!!!!
If you have any additional requests for your sign up, don't hesitate to add them to your sign-up comment!
Thanks for taking the time to read and vote! I hope you sign up!
Ad blocker interference detected!
Wikia is a free-to-use site that makes money from advertising. We have a modified experience for viewers using ad blockers

Wikia is not accessible if you've made further modifications. Remove the custom ad blocker rule(s) and the page will load as expected.