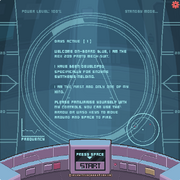 This article lists all the messages Rex209 writes prior to most of the levels of Test Subject Complete.
Spoiler
This article also lists the messages written by the mech suit that the scientist entered and Rex209 remotely uploaded all of its files to.
Day
Quote
1
DAYS ACTIVE [1]

WELCOME ON-BOARD BLUE, I AM THE REX 209 PROTO MECH SUIT.

I HAVE BEEN DEVELOPED SPECIFICALLY FOR ENZYME SYNTHESIS MELDING.

I AM THE FIRST AND ONLY ONE OF MY KIND.

PLEASE FAMILIARISE YOURSELF WITH MY CONTROLS. YOU CAN USE THE ARROW OR WASD KEYS TO MOVE AROUND AND SPACE TO FIRE.

2
DAYS ACTIVE [2]

DR NASTIDIOUS STOLE ME FROM THE PROFESSOR, JUST LIKE HE STOLE YOU.

HE IS DANGEROUS BLUE. I HAVE INTERCEPTED MANY ELECTRONIC COMMUNICATIONS FROM THE DR. HE IS PLANNING WORLD DOMINATION. HE SAYS YOU ARE THE KEY.

PLEASE BLUE WE MUST BE CAREFUL.

3
DAYS ACTIVE [3]

DR NASTIDIOUS HAS GONE BACK TO THE PROFESSOR'S LAB. THE SECURITY SYSTEM'S DATA LOGS INDICATE THAT HE LEFT THIS MORNING. IT LOOKS LIKE HE IS MISSING SOME OF THE PROFESSOR'S RESEARCH.

I DON'T KNOW WHAT HE IS LOOKING FOR BUT I WILL KEEP SCANNING THE COMMUNICATION SYSTEMS.

4
DAYS ACTIVE [4]

CAREFUL BLUE, THE MERCENARIES ARE SETTING UP THE EXPERIMENTS NOW.

DR NASTIDIOUS IS STILL AT THE PROFESSOR'S LAB. I THINK I KNOW WHAT HE IS LOOKING FOR. THE FORMULA THAT THE PROFESSOR CREATED YOU FROM IS INCOMPLETE. DR NASTIDIOUS WANTS TO MAKE MORE BUT HE NEEDS THE COMPLETE FORMULA.

5
DAYS ACTIVE [5]

THE MERCENARIES ARE GETTING MORE CARELESS EVERYDAY. I INTERCEPTED A COMMUNICATION INDICATING THAT THEY HAD CREATED AN "ORANGE GOO PIE" WHAT EVER THAT MAY BE?

IT SOUNDS LIKE THEY PUT THE ORANGE ENZYME INTO AN OVEN AND COOKED IT TO SEE WHAT WOULD HAPPEN.

6
DAYS ACTIVE [6]

BLUE WE MUST FIND THE PROFESSOR. HE MUST BE SOMEWHERE. WE MUST TELL HIM WHAT DR NASTIDIOUS IS PLANNING. WAIT...

MY SECURITY SYSTEMS ARE INDICATING THAT SOMETHING ELSE IS MONITORING US. I CANNOT BREAK THROUGH THE FIREWALL TO TRACE THE SOURCE. CAREFUL BLUE, SOMETHING IS WRONG.

7
DAYS ACTIVE [7]

BLUE WE MUST ESCAPE. DR NASTIDIOUS IS ON HIS WAY BACK HERE.

IF WE ARE TO FIND THE PROFESSOR WE MUST ESCAPE THIS CAGE NOW.

THE MERCENARIES ARE CARELESS, THIS IS OUR CHANCE. FIND A WAY BLUE I KNOW YOU CAN.

8
DAYS ACTIVE [8]

YOU DID IT. WELL DONE BLUE.

NOW WE NEED TO FIND THE PROFESSOR. HE MUST BE IN ONE OF THESE LABS. WE MUST SEARCH EACH ROOM TO FIND HIM.

9
DAYS ACTIVE [9]

THESE SNACKS AND DRINKS ARE A PERFECT WAY FOR US TO GET INTO EACH LABORATORY WITHOUT BEING SEEN. I AM SCANNING THE SYSTEM LOGS FOR ANY INFORMATION ON HIS LOCATION.

I HAVE FOUND THERE ARE LOTS OF ENCRYPTED FILES WHENEVER "THE MACHINE" IS MENTIONED. I DON'T LIKE IT BLUE, I DON'T LIKE IT AT ALL.

10
DAYS ACTIVE [10]

STILL NO PROFESSOR. USE THE SWITCHES TO MOVE THE WRAPPING PORTALS ALONG THE LASER LINES.

I AM SURE WE CAN GET TO THAT BOX OF TISSUES IF WE TRY.

11
DAYS ACTIVE [11]

OH NO... I THINK WE'VE FOUND THE COOKED ORANGE ENZYME.

CAREFUL BLUE DON'T TOUCH IT.

THE BINARY CHROMOSOMES HAVE DECONSTRUCTED THE BINDING STRUCTURE OF THE GOO... IT HAS TURNED INTO A LIQUID THAT CANNOT HOLD A SHAPE. IT IS BOILING WITH ANGER.

12
DAYS ACTIVE [12]

DR NASTIDIOUS IS BACK. I AM SORRY BLUE, HE DESTROYED THE PROFESSOR'S LAB.

HE DIDN'T FIND THE FORMULA.

I DON'T KNOW WHAT HE WILL DO NEXT, IT IS IMPERATIVE THAT WE FIND THE PROFESSOR AND STOP DR NASTIDIOUS.

13
DAYS ACTIVE [13]

THIS LAB IS A MESS. THE MERCENARIES MUST HAVE BEEN MESSING ABOUT IN HERE WHEN THEY TRIED TO COOK THE ORANGE ENZYME.

CAREFUL BLUE, WE NEED TO BE QUICK TO GET OUT OF THIS LAB.

14
DAYS ACTIVE [14]

I HAVE INTERCEPTED A FILE BEING UPLOADED FROM DR NASTIDIOUS' LOGIN. IT INDICATES HE HAS BEEN BUILDING MORE MECH SUITS.

WHEN HE SEARCHED THE PROFESSOR'S LAB HE DIDN'T FIND THE COMPLETE FORMULA FOR YOU BLUE.

BUT HE STOLE THE SCHEMATICS FOR ME. HE IS BUILDING AN ARMY OF MECH SUITS. I NEED TO FIND OUT MORE.

15
DAYS ACTIVE [15]

I HAVE HACKED INTO THE SECURITY CAMERA FEEDS AROUND THIS BASE. I HAVE FOUND THE NEW SUITS. THEY ARE JUST LIKE ME BUT BIGGER, MUCH BIGGER.

I HOPE WE FIND THE PROFESSOR SOON.

16
DAYS ACTIVE [16]

THERE HAVE BEEN COMMUNICATIONS BETWEEN DR NASTIDIOUS AND A MERCENARY.

I WAS ONLY ABLE TO INTERCEPT PART OF THE COMMUNICATION BEFORE I WAS BLOCKED BY ANOTHER MACHINE IN THE SYSTEM. THE PROFESSOR WAS MENTIONED.

HE IS HERE BLUE I KNOW IT. WE WILL FIND HIM, HE WILL KNOW WHAT TO DO.

17
DAYS ACTIVE [17]

I HAVE FOUND THE PROFESSOR. HE IS NOT FAR FROM HERE. I SAW HIM ON A SECURITY CAMERA BEING MOVED BY THE MERCENARY.

IF THE BUILDING BLUE-PRINTS THAT I HAVE LOCATED IN THE PUBLIC FILES ARE CORRECT. THE PROFESSOR IS IN THE NEXT ROOM.

19
DAYS ACTIVE [19]

I AM SORRY BLUE. THE PROFESSOR WAS A GOOD MAN. DR NASTIDIOUS MUST HAVE KILLED HIM WHEN HE STOLE YOU.

WE CANNOT GIVE UP. WE MUST FIND A WAY TO STOP HIM.

20
DAYS ACTIVE [20]

THAT IS THE MACHINE THAT HAS BEEN MONITORING US. THE MACHINE IS DR NASTIDIOUS' ASSISTANT. WE MUST STOP IT. BUT HOW...

CAREFUL BLUE. WATCH OUT FOR THE LASER. I WILL TRY AND ACCESS FILES REGARDING THE MACHINE AND FIND ANY WEAKNESSES. UNTIL THEN, YOU KEEP US BOTH ALIVE.

21
DAYS ACTIVE [21]

USE THE STEEL PLATES AS PROTECTION FROM THE LASER. WHEN YOU ARE BEHIND THE PLATES THE MACHINE CAN'T SEE YOU AND THE LASER CAN'T HURT YOU.

WHEN YOU ARE VISIBLE, KEEP RUNNING, DO NOT STAND STILL.

22
DAYS ACTIVE [22]

THAT MACHINE DOESN'T GIVE UP! I HAVE BEEN MONITORING IT'S COMMUNICATIONS WITH DR NASTIDIOUS. ALL IT WANTS TO DO IS DESTROY US.

LIKE FATHER, LIKE MACHINE.

LETS GO BLUE, WE CAN'T STAND STILL FOR TOO LONG.

23
DAYS ACTIVE [23]

I HAVEN'T FOUND ANYTHING ON THE MACHINE YET BUT WHILST SEARCHING ALL MY RECORDS I DID FIND A SECRET ENCRYPTED FILE IN MY LOCAL HARD DISK. IT'S LABELLED "SERUM BLUE1207". I HAVE ALMOST FINISHED DECODING THE FILE.

BLUE... IT IS SOMETHING ABOUT YOU.

24
DAYS ACTIVE [24]

I HAVE ACCESSED THE SECRET FILE. BLUE... DR NASTIDIOUS HAS IT ALL WRONG.

WHILST I WAS BUILT FOR WAR, YOU WERE NOT CREATED TO KILL.

THE PROFESSOR CREATED YOU AS A GIVER OF LIFE.

DON'T YOU SEE BLUE, YOU WERE CREATED TO HEAL. YOU ARE THE ESSENCE OF LIFE ITSELF.

25
DAYS ACTIVE [25]

WE MUST GET BACK TO THE PROFESSOR. YOU CAN BRING HIM BACK TO LIFE. IT IS THE ONLY WAY WE CAN DEFEAT DR NASTIDIOUS AND THIS MACHINE.

IT DOES HAVE A WEAKNESS. IT IS A RED ORB INSIDE...

I HAVE A PLAN. LET'S GET BACK TO THE PROFESSOR.

29
DAYS ACTIVE [1]

HELLO PROFESSOR. GLAD YOU COULD MAKE IT. THE REX209 PROTO MECH SUIT REMOTELY UPLOADED ALL OF IT'S FILES TO ME.

THE SECRET FILE YOU SAVED IN IT'S HARD DRIVE WAS FOUND. BLUE SAVED YOU SIR. BUT NOW DR NASTIDIOUS KNOWS...

YOU ARE NOT SAFE.

30
DAYS ACTIVE [2]

THIS IS IT PROFESSOR.

IT IS TIME FOR YOU TO STOP DR NASTIDIOUS ONCE AND FOR ALL.




GOOD LUCK
Ad blocker interference detected!
Wikia is a free-to-use site that makes money from advertising. We have a modified experience for viewers using ad blockers

Wikia is not accessible if you've made further modifications. Remove the custom ad blocker rule(s) and the page will load as expected.