This month's logo was made by Frostyflytrap and contains content from Rust Bucket Update 3.
The logo consists of content from the sewer levels (levels 31-40) of the game. The left side of the image contains, from left to right, a heavy button, Rust Bucket, a crab, and a crocodile.
The word "Nitrome Wiki" is positioned at the left side of the image.
July 5th, 2016 - Mat Annal posts on Twitter an image of art that would be used in the beach background for Leap Day, a new background that was being created.
July 4th, 2016 - Leap Day Update 2 is released.
July 1st, 2016 - Nitrome posts on Twitter that Leap Day Update 2 will be released the following Monday (July 4th, 2016).
July 1st, 2016 - Nitrome posts on Twitter a video preview of Stretch Dungeon.
June 19th, 2016 - Nitrome posts on Twitter an in-game Leap Day Selfie cam image of a level that has the Totem background.
To write a new article, just enter the name of your article in the box below. Don't forget to make sure that you are not creating a preexisting page, though.
Not sure where to start?
If you are new to wikis, check out the tutorial.
Visit Project:Tutorials for help on several subjects!
Ask an experienced user or an active admin for help!
Adding content
Talk and more...
Visit the forums for extra help and friendly discussion.


The bow and arrow is a weapon in the game Double Edged. The bow and arrow consists of a brown wooden bow with a white bow string, as well as some arrows with wooden shafts, stone arrow heads, and white feathers; the arrows are stored in a brown quiver. The bow and arrow is very useful weapon, helpful in every situation in the game. (Read more!)
Previously featured: Cuboy • Weresquare • Nitrome Touchy • Skins • Interactive objects (Droplets) • (more)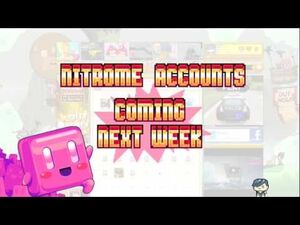 NES games battle!

VS

VS

VS
How often do you play Leap Day's daily level?
Previous month poll results
Suggest a poll!