This month's logo was made by Santiago González Martín, made up of content from Vault, the most recent Nitrome game at the time.
The logo consists of three screenshots of Vault, the left screenshot showing an exploding Panic bot next to a hoop, the middle screenshot showing a Panic bot running past a hoop, and in the right image The Dragon dying. A large image of King Edward is present on the right side of the logo.
The word "Wiki" is coloured in white and purple and has a block-like pixel style.
October 30th - Beneath The Lighthouse is released for Apple TV.
October 30th - An extended version of Beneath The Lighthouse's trailer is released
October 29th - Beneath The Lighthouse is released for iOS and Android.
October 28th - A GIF showing bombs and extra lives from Beneath The Lighthouse is posted
October 27th - A GIF showing the auto-winch hazard from Beneath The Lighthouse is posted
To write a new article, just enter the name of your article in the box below. Don't forget to make sure that you are not creating a preexisting page, though.
Not sure where to start?
If you are new to wikis, check out the tutorial.
Visit Project:Tutorials for help on several subjects!
Ask an experienced user or an active admin for help!
Adding content
Talk and more...
Visit the forums for extra help and friendly discussion.


The bow and arrow is a weapon in the game Double Edged. The bow and arrow consists of a brown wooden bow with a white bow string, as well as some arrows with wooden shafts, stone arrow heads, and white feathers; the arrows are stored in a brown quiver. The bow and arrow is very useful weapon, helpful in every situation in the game. (Read more!)
Previously featured: Cuboy • Weresquare • Nitrome Touchy • Skins • Interactive objects (Droplets) • (more)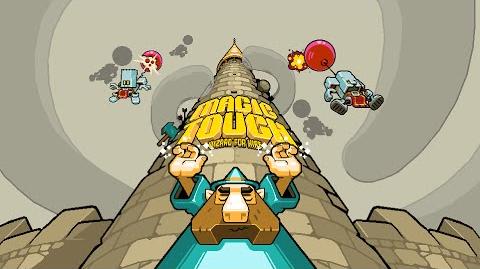 What is your favourite game component category?
Previous month poll results
Suggest a poll!