Home
Talk

297
2,233pages on
this wiki
This month's logo is made by Santiago González Martín, this time featuring content from the the then-released Bump Battle Royale and Pixellovegames.com.
The left side of the logo has the face of the robot, while the middle of the logo has (from left to right) the pink angel, Blue, and a basic employee. The right side of the logo has the heart character from the old Pixel Love barrier.
The word "Wiki" is coloured in purple, pink, and yellow, with the "W" and "i" coloured in purple and pink (respectively), while the "k" and "i" are coloured in yellow.
28 August 2013 - two thousand articles!
21 July 2013 - It is now necessary to have a Nitrome Wiki account to edit and comment on Nitrome Wiki and its sister wikis. This is due to changes in US law which does not allow our website to track IP addresses of children. If you would like to gain access to editing, commenting and more, please sign up for an account. You do need to be thirteen or older. official press release
1 April 2013 - Nitrome Wiki celebrates April Fools! Did you catch it? To peek at the craziness that day, click here!
23 December 2012 - Special thanks goes to Santi, NOBODY and Ayernam for the Christmas Logo, and Ayernam, Emite, Frosty, NOBODY, Random, Santi and Sabkv for the Christmas Skin!! Visit this blog for more information.
19 December 2012 - Nitrome Wiki goes into holiday mood! Check out our joyful Christmas skin, logo and wintery livery =)
To write a new article, just enter the name of your article in the box below. Don't forget to make sure that you are not creating a preexisting page, though.
Not sure where to start?
If you are new to wikis, check out the tutorial.
Visit Project:Tutorials for help on several subjects!
Ask an experienced user or an active admin for help!
Adding content
Talk and more...
Visit the forums for extra help and friendly discussion.


Nitrome Touchy is a free Brass Monkey application for iOS and Android devices released in 2012. The app allows for select Nitrome games to be played using the player's mobile device as a controller. Nitrome Touchy supports motion detection and local multiplayer, allowing for select games to be played with up to four people. (Read more!)
Previously featured: Cuboy • Weresquare • Skins • Interactive objects (Droplets) • Chickens (more)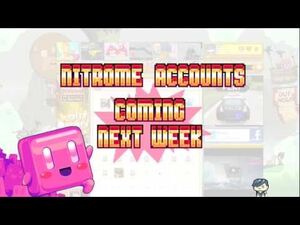 Should Nitrome make another level pack for Icebreaker A Viking Voyage or make another mobile game instead?
Previous month poll results
Suggest a poll!