Home
Talk

302
2,294pages on
this wiki

This special logo is made by Santiago González Martín, containing content from the two recently released endless games Roller Polar and Platform Panic. Most of the image is set in the environment from Roller Polar, with some content from Platform Panic included.
The left side of the logo shows the Polar Bear startled and a tree. The middle of the logo shows a platform from Platform Panic with Rosy Cheeks Boy and all three variations of robots. Appearing in the right side of the logo is a bird, a rock, and the Avalanche penugin.
"Wiki" is coloured in winter colours.
To write a new article, just enter the name of your article in the box below. Don't forget to make sure that you are not creating a preexisting page, though.
Not sure where to start?
If you are new to wikis, check out the tutorial.
Visit Project:Tutorials for help on several subjects!
Ask an experienced user or an active admin for help!
Adding content
Talk and more...
Visit the forums for extra help and friendly discussion.


Nitrome Touchy is a free Brass Monkey application for iOS and Android devices released in 2012. The app allows for select Nitrome games to be played using the player's mobile device as a controller. Nitrome Touchy supports motion detection and local multiplayer, allowing for select games to be played with up to four people. (Read more!)
Previously featured: Cuboy • Weresquare • Skins • Interactive objects (Droplets) • Chickens (more)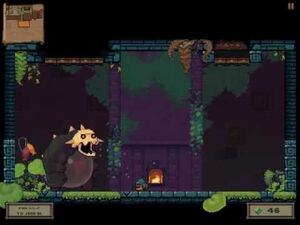 Snow games battle!

VS

VS

VS

VS

VS

VS

VS

VS
VS

How often do you use continues in Platform Panic?
Previous month poll results
Suggest a poll!