Nitrome
Talk

16
2,273pages on
this wiki
| | |
| --- | --- |
| | This article needs additional citations for verification. Relevant discussion may be found or brought up on the talk page. You can help improve this article by adding citations to reliable sources. (January 2014) |
For the weapon in Nitrome Must Die, see Gun (Nitrome Must Die)#Nitrome.
For the actual physical location, see Previous locations of Nitrome#Nitrome Limited.
Nitrome Limited



Type

Limited

Employees

12

Founders

Based

London, England

Site URL

Nitrome (pronunciation), officially registered in the United Kingdom as Nitrome Limited, is a Flash game development studio based in London, England, and founded on August 10th 2004[1].
Nitrome was founded by Mat Annal and Heather Stancliffe but has now grown to have ten employees, helping with game development. Due to the small team and creativity of the group, new Flash games are released on regular basis (usually about two a month). The main income for the company is through advertising and licensing their games to larger Flash game websites.
The majority of Nitrome's productions are Flash browser games. From 2012, Nitrome has been making forays into Facebook games and smartphone mobile games.
All of their Flash games (except their advert games) can be played on Nitrome.com, their official website.
History
Early days (2004-2005)
Nitrome started up on August 10th 2004[1] and was founded by Heather Stancliffe and Mat Annal. Nitrome began as a result of Mat Annal wanting more freedom to create games, as Annal had previously worked on other advergames but was frustrated over the restrictiveness caused by clients.[2] The office at the time was the size of a bedroom. For income, they made advergames (games made to advertise a product), such as Vege-Mania Game. About 11 months after Nitrome was founded, a conversation about mobile phone games stemmed up between Heather and Mat.
Heather did not think it was such a good idea. After much persuasion, a mobile phone game finally went into production. Nitrome launched their site on April 5th 2005. Their mobile phone game Four Play was the only mobile phone game released. Chick Flick, Nitrome's first game in development, was abandoned due to lack of funding. Mat's brother, Jon joined the Nitrome team on May 20th 2005. Nitrome left the cellphone gaming business in 2005, and entered the browser flash games business.
Flash games (2006-2008)
Nitrome made a few advergames in 2005 before making their own games. Nitrome remade their site and released their first game Hot Air in 2005. They did not make much money off of it. Nitrome ported Chick Flick and released it on their site in 2006, after adding and removing features. Nitrome released several other game being sponsored by Miniclip, and also hired testers at first, but stopped.
Games took a long time to make at that time. Nitrome hired more people the in 2007 and took less time to make games. Nitrome made sequels to some of there games, and during that year MTV Arcade sponsored a few games. They released skins so players could personalize the site, and released more the next year.
Modern days (2008-2011)
With more people hired in 2008, this allowed Nitrome to make even more games in less time. Nitrome's games also had a story; Nitrome released several popular games in 2008. Nitrome released sequels in 2009 for games released the same year. Ice Breaker released in January 2009 was hugely popular and spawned two sequels. Twin Shot also gained popularity, and gaining a sequel.
Nitrome also tested out MochiCoins in Twin Shot 2. MochiCoins allowed players to buy coins and spend the coins on extra content in Twin Shot 2, or other MochiCoin games. Nitrome tried MochiCoins out on B.C. Bow Contest, but did not implement the software into any future games. In the end of December, Nitrome announced they would be on Facebook.
Nitrome made more games in 2010, but in the summer, between July and September, Nitrome experienced a problem which prevented blog posts to be posted, and during this time no games were released for two months, the second longest Nitrome has ever went without a game release. During the two month drought, Nitrome worked on making the iOS game Super Feed Me, but after noticing a drop in their revenue, they returned to making flash games.
A short time after this drought, Nitrome moved to central London. Nitrome released games in 2011 believed to have been "ported" from the Nitrome Enjoyment System. Nitrome in April began to post a blog post on every Weekday until the end of May. After this, Nitrome went back to there usual routine of posting only when there is Fan or New content, except they began posting a weekly Friday update informing fans of content that may or will be posted or released in the coming week. Nitrome had a big revamp on their website, called now "Nitrome.com 2.0", with a new feature for liking games and a huge aesthetic upgrade. They finally reached 100 games on November 23rd 2011, with the release of Nitrome Must Die.
Premium games (2012-present)
Nitrome announced in early 2012 the publishing of demos on their site, in order to get feedback for their posterior game releases, the first being Cheese Dreams 2 demo, released in March 30th.
On October 15 of the same year, Nitrome released a new project, this time a game that would be purchasable on Steam, though it had to pass the Greenlight phase, in which Steam players had to decide if they wanted the game to be available to purchase or not. A demo of the game was released, this game called Flightless.
They also announced in later 2012 the making of a brand new iOS game, Icebreaker: A Viking Voyage, which they released on June 20 2013 with publishing help from the Finnish entertainment company Rovio under their new publishing initiative, "Rovio Stars". However, Nitrome also worked on more games while they produced this fourth Icebreaker installment. 
In 2013, Nitrome made another big update to their website; in which the long-awaited accounts were released, in which players could store their game data and was well getting badges and avatars for their performance on games, and keeping in touch with other gamers with a friends list feature.
Content created
Since there inception, the majority of Nitrome content has been Flash based and free. However, at certain times, Nitrome has offered premium content under other medium. Starting 2012, Nitrome announced more premium content that was to be released.
Nitrome acknowledged that the reason premium services such as iPhone and Steam were started up were due to Nitrome getting less and less money from Flash games.
Mobile phone games
Nitrome originally started off as a small company that was to create games to be played on cellphones. Of the two started mobile phone games - Four Play, and Chick Flick - only one was released.
Four Play was released and criticized due to its slowness. Chick Flick were cancelled due to lack of funding, Nitrome abandoning the mobile version of Chick Flick and instead made the game in flash and released in for free. It was after Nitrome's short time in the mobile phone game business they shifted to Flash.
More mobile games were later released, for iOS and Android devices (see below sections).
Browser games
Nitrome began making browser games after the abandonment of the mobile version of Chick Flick Nitrome began making games in flash[3][4]. Nitrome's first flash game was Hot Air, and despite it not making as much money as commissioned work[5], it still allowed for the production of further browser Nitrome games.[6]
All of Nitrome's browser games are in Flash, though Nitrome will eventually be making games in Unity.[7] For the Nitrome Jam, because there was more freedom for what the game could be made in, what the Nitrome games in varied: some were in Flash, one was in HTML5, and the rest were in Unity. The Nitrome Jam served as the first time a Nitrome game was made that was browser based but not in Flash. This interest in Unity was not shared by Nitrome originally, as Unity was previously seen as having no advantages over Flash.[8]
The current development time of Nitrome's flash games varies considerably, usually taking two to three months to make, although Nitrome sometimes manages to create a game in a single month, such as (but not limited to) icon games.[9] Nitrome's development time has varied through their years of being active. Early on, from 2005 to 2007 it took a month (four weeks[10]) to create a game[11], which later shifted to six weeks, eight weeks if the game had to be developed longer.[12] Game development soon became longer, taking three months to make a game and ten weeks for game development, as spoken about by Mat Annal during an interview with Startfrag in November 2011[13]. While Nitrome often sticks to a regular development time for games, some games have taken much longer to make than most games, Steamlands for instance taking six months to make[14] and Nitrome Must Die taking a similar amount of time[15]. Originally, it was thought that longer development of a game would result in more income from ad revenue, however, this proved to not be the case[16], though Nitrome will sometimes still spend more time making some games if the game is enjoyable to work on.[17] The length of game development, and also the length of a game are determined by ad revenue, specifically, the amount of time that can be spent on the game[18] and what the game can be expected to make back in ad revenue[19]. The budget for individual games are smaller than what Mat Annal was paid when hired by companies to make games[20].
Although the ideas for most Nitrome games come from Mat Annal [21][22][23], he allows all staff members to submit ideas for games as well.[24][25] To keep track of ideas, all staff members have books where they can write down their ideas, every month a meeting being held where these game ideas are discussed. [26] [27] Before game ideas can be worked on, they first have to be approved by Mat Annal[28] and upon being approved they can be worked on once the currently worked on project is finished. Once development on the idea starts, further ideas for the game are brainstormed with others in the office[29]. Ideas may sometimes change dramatically throughout development based on how the game may work when the game's basic controls are programmed into the game and can be used.[30]
Nitrome avoids using mature content in their games, as they do not want to lose their already large audience, as it was their family friendly attitude at the start which allowed them to gain such a diverse audience.[31] Still, Nitrome does sometimes create games with dark themes in them, such as Final Ninja or Nitrome Must Die, though even in these games mature content is avoided.[32] Despite the absence of dark games in recent years, Nitrome still is open to creating games of this type.[33]
Many of Nitrome's earlier flash games used to be coded in ActionScript 2, but since then Nitrome has moved to coding games in ActionScript 3 through Flash Develop[34]. Game art is created with Photoshop[35][36] and depending on the preference of the artist sprites can either be animated in Photoshop[36] or with Promotion[35][36]. Music is created with Logic Pro. In recent years most tools for Nitrome games are created directly at Nitrome[37], such as level editors for different games and game engines[38], though for some of their earlier games Nitrome has used Box 2D to handle physics more complicated that other games.
MochiCoins
Main article: MochiCoins
It was in 2009 that Nitrome began experimenting with MochiCoins, a service that allowed companies to sell premium in-game content. Nitrome first used this system in Twin Shot 2, offering an extra 50 levels and a cheats system. Nitrome later used this system in B.C. Bow Contest, in the form of purchasable arrows, and yet again, a purchasable cheat system.
Both MochiCoin supporting games also offered free content: Twin Shot 2 offered five free skins, and B.C. Bow Contests offered two free arrows. Nitrome eventually stopped using MochiCoins at the start of 2010. Prior to the release of MochiCoins, Nitrome stated how they would not be used in every game.
iOS
Main article: Category:Mobile phone games
Starting in 2009, Nitrome announced the development of Super Feed Me. What was Nitrome's intended first iOS game that was said to be "coming soon" was slowly worked on. As Nitrome devoted more of their time to making Flash games than making premium games, Super Feed Me was not worked on a lot. The development of the game in September 2010 was cut short by Nitrome's realization of the drop in views to their site.
It was this that caused Nitrome to look for an iOS programmer before attempting to work more on Super Feed Me. It was in 2012 that Nitrome began to work on two other iOS games - Nitrome Touchy and Icebreaker: A Viking Voyage. Due to the taking up of Flightless and the two aforementioned iOS projects, Nitrome has to postpone Super Feed Me's development, much to their fans dismay.
Of the three iOS games, Nitrome Touchy and Icebreaker: A Viking Voyage are currently the only ones that have been released. Nitrome Touchy was released on October 31th 2012, and Icebreaker: A Viking Voyage was released on June 20th 2013. Nitrome has currently taken up a third "top secret" Nitrome iOS game, that is currently only 25% finished.
Android
Main article: Category:Mobile phone games
Nitrome's first Android app was Nitrome Touchy, released on November 21st 2012. The Android port of Icebreaker A Viking Voyage was released on May 7th 2014 after being in development for 9 months.[39]
Windows Phone
Main article: Category:Mobile phone games
Announced on July 15th 2014, 8bit Doves will also be released on Windows Phone.
Steam
Back in September 2011, Nitrome previewed an image of an upcoming Steam game, Flightless. Not much was revealed about it, other than its artist. A year passed since its announcement, with nothing revealed about it. It was on October 15th 2012 that Nitrome released the Flightless Demo and announced that the game was on Steam Greenlight. They also urged fans to vote for it via advertisements on their site and other methods. Although the game was successfully greenlit, the game is currently not being worked on, but will be in the future.[40]
Revenue
For many years ads and browser game derived content[41] continued to be Nitrome's only source of revenue, though what type of browser game derived content has varied. When Nitrome first began to make browser games their only source of income came from sponsorship [42][43] by sites like Miniclip, though early on Nitrome struggled to make a profit this way[44]. Despite this, Nitrome still managed to bring in enough income from their flash games to fund others[43]. For several years sponsorship made up the bulk of Nitrome's revenue, with a small amount of income also gained through site ads, game licenses, and royalties.[10] The growth of Nitrome's site caused ads to become Nitrome's main source of revenue[42][10], something that would continue for all subsequent years. Nitrome's ad revenue in 2010 made up eighty five percent of their overall revenue[45], Nitrome's overall revenue during that time allowing them to have a staff of around 15.[46] Though Nitrome managed to sustain themselves through those years[47], financial difficulties were encountered in 2011[note 1] as traffic to Nitrome.com declined and with it the revenue Nitrome received from ads[49]. It was around this time that development of Icebreaker A Viking Voyage was started[48]. From then on Nitrome still managed to bring in income, though it was not as much as what they made before.[50][51] From 2013 onward, Nitrome also gains revenue from the mobile games they produce, although what impact they have on Nitrome's overall revenue is not certain.
Art
Nitrome's art style was influenced by that of the age of 16-bit video games[52]. The use of pixel art in Nitrome's games dates back to development of Hot Air, where Annal wanted to make a game that was based around gameplay of the 16-bit era of video gaming, and with pixel art being a large influence of that time period it was used as the art style for Hot Air and later adopted as Nitrome's art style after Annal's enjoyment with it.[52] The presence of other pixel artists later on at Nitrome further solidified the pixel art direction Nitrome had took for their graphics.[52]
Nitrome's art style early on was to aim[53] for cute[53] and bright[54] graphics as this was the preference of Mat Annal[54]. Not all Nitrome games at that time stuck to this though, as games such as Toxic and Final Ninja strayed from this art style. Nitrome later shifted away[55] from the cute and bright art style to letting a game's game mechanic influence the art created for the game[56].
Logo
Nitrome's logo has always been the letters N-I-T-R-O-M-E displayed in a slanted line. The colours of the letter vary depending on where the logo is seen. There is a different colour scheme and background for the Nitrome logo in all games' Startups.
The classic Nitrome logo was simply just pink and white letters, while the logo Nitrome used after the release of 2.0 revised the letters as bronze coloured (hues of yellow and orange).
In-game references
Nitrome has been referenced as a company in some of their games. In others, their website (nitrome.com) is shown as a level.
Square Meal has one level where all the wooden blocks are arranged to look like the word "Nitrome".
A level design with the word "Nitrome" is also present in Bad Ice-Cream
Rainbogeddon has a level where the walls have openings that resemble the letters: N,I,T,R,O,M,E,.,C,O,M. Or Nitrome.com, in the top it says NITRO and in the middle it says ME and at the bottom it says .COM.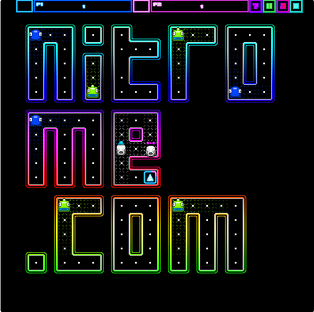 On level 31, the player has to destroy a giant screen with a level of Off the Rails on it. Before the player starts the level, the boss notices the giant screen and mentions Nitrome, with Barry and Garryresponding by saying how "awesome" Nitrome is, and how they play their games.

Nitrome appears as a ruthless game making company who oppress the employees by torturing them and making them finish projects in a small amount of time. This is seen by the content on the walls of some levels. Two friends - Austin Carter and Justin Bennet - go to destroy Nitrome, after being fed up with losing so much at their games. Nitrome's fictional work building, Nitrome Towers, also makes an appearance; having 100 floors.
On level 10, the word "Nitrome" appears as a vertical neon sign.

The newspaper that the cyborgs read has a heading title of "NITR", but is cut off. The full title is probably "NITROME".
On level forty-one, the letters 'NITROME' are spelled out in grey blocks, via negative space.

The passengers in the last level of Skywire VIP Shuffle are employees from Nitrome.
Studio Location
Main article: Previous locations of Nitrome
Since starting up, Nitrome has moved their office multiple times. Currently, they are located in an office titled "Nitrome Limited". [57]
Name origin
Mat Annal stated in an interview[58] with Jay is Games that when he (Mat Annal) was creating Nitrome, he wanted to give the company a "made up name" so that mention of the name would mean only them (Nitrome) and so that they could get a dot com domain "that would rank highly in search engines under [the word Nitrome]".
Pronunciation
Nitrome is pronounced NIGH-trome, with a long "i" and "o" sound. The "e" is silent. This can be heard when the announcer speaks as the menu opens in Nitrome Must Die.
Staff
Nitrome has several staff which work on parts of games. A "-" means they have not left, as well as have not done work in a game before leaving. As of March 5th 2013, Nitrome has said that they have 12 employees [59].
Awards
| Site/Event | Year | Contest | Prize | Outcome |
| --- | --- | --- | --- | --- |
| Edge | 2011 | The Friday Game: Best of 2011 | The Endless Reliability Award | Won[60] |
External links
Trivia
A lot of Nitrome's game names are based of wordplay and insults, Four Play, Chick Flick, Square Meal, Headcase, Knuckleheads, Small Fry, and Numbskull for example.
Nitrome is commonly mispronounced NIT-roam. However, the pronunciation of Nitrome— NIGH-trome — is similar to a word with similar spelling— nichrome — which is pronounced as NIGH-chrome.
Most sound effects (alternatively known as Sound FX) Nitrome uses are used across many games.
If one is uploading a Nitrome video to Youtube, Youtube may suggest the uploader to add the tag "Nitrome (company)" to their tag box.
Notes
↑ Pocket Gamer: Studio Profile: Nitrome: "The knock-on effect of less traffic and less revenue per person meant that we were probably making less than half what we used to," says Annal. "But our costs were the same." He adds, "We could have lasted another year, maybe." It was around this time that Nitrome decided to go full tilt at turning Icebreaker into a full mobile title..., 18 July 2013, retrieved 12 August 2014.
The time this was done was late 2011.[48]
References
↑ 1.0 1.1 1.2 Nitrome blog: - Icebreaker: Glorious Gloves! → Comment by Nitrome:

Nitrome was founded on August 10th 2004.

↑ Internet Archive Wayback Machine: - Mochimedia: Mat Annal of Nitrome: FGS 5 Advisory Board Interview Series → A few jobs down the line, I was actually making games within the web space and at the time the only format to realistically use for that was Flash. This of course was all for clients, whom have a tendency to control your games to the point of them lacking the key creative elements I wanted to be able to introduce. I started Nitrome out of frustration with this situation and produced our first game "Hot Air" as a reaction to my lack of freedom up until that point.
↑ Studio Profile: Nitrome | Pocket Gamer.biz → Rather than search for new clients, Nitrome returned to work on a project it had begun before the BBC contract came along, a mobile title created in J2ME called Chick Flick. Yet in the time between the conception of the game and Nitrome's return to it, the market had changed. "Because we'd taken so long to do it, we had the likes of Gameloft that were really aggressive in that space, as well as all the Ubisoft ports to compete against. "We thought, 'You know what? Nobody's even going to see our game.' So we reluctantly gave up on that idea and said, 'Okay, well we know Flash...'"
↑ Game Developer's Blog - Nitrome: Memory Lane: Chick Flick!: We gave up on it [Mobile Chick Flick] ultimately as we realised [

sic

] we did not have the funds we needed to market it., 22 November 2013, retrieved 12 July 2014.
↑ gotoAndPlay() - spotLight: Nitrome → Our first game was Hot Air which did ok but didn't really make the sort of money we were used to getting from client commissioned work.
↑ Internet Archive Wayback Machine: - three quarter dpad - Steamlands: The Interview (May 13th 2011) → We made a game (Hot Air) to show what we could do to prospective clients and to see if we could sell enough licenses to gaming sites to cover the cost of making it. To our surprise we did so we made more and the rest is history!
↑ Game Developer's Blog - Nitrome: Bump Battle Royal Fan art! → Comment by Jon Annal: We are playing around with unity. So you can expect some future Nitrome games to be using unity., 9 July 2014, retrieved 9 July 2014.
↑ Jay is Games: Link Dump Friday [246] → We [Nitrome] have nothing against other web technologies but at the moment we see no advantages to using HTML5 or Unitly. [

sic

]
↑ Game Developer's Blog - Nitrome: Mobile Page Update → Comment by Nitrome:: It's hard to be too accurate as we do them at all sorts of lengths. Usually 2-3 months. Occasionally we manage something in around a month still though like the icon games for example., 16 July 2014, retrieved 17 July 2014.
↑ 10.0 10.1 10.2 10.3 Flashjolt: Interview with Nitrome's Matt: Originally it was definitely Sponsorship that produced most of it with Ads, Licensing and Royalties being a welcome but small amount on top. Now though most of our money comes from the advertising….it's amazing to see just how much that part of our business has grown over time!, 18 May 2010, retrieved 30 August 2014.
↑ 12.0 12.1 fgl: Chat Event - Nitrome → nitromemat: rocketman - we used to spend around 4 weeks now it is more like 6 or occassionally 8 if it slips
↑ Internet Archive Wayback Machine: Interview with Matthew Annal, Managing Director at Nitrome - Startfrag → A game can take anywhere from 1 to 3 months to develop... As more of our games seem to be bigger now on average I would say most games take around 10 weeks to complete.
↑ Internet Archive Wayback Machine: Three quarter dpad: Steamlands: The Interview → It [Steamlands] ended up taking about 6 months in total to develop.
↑ Jay is Games: Link Dump Friday №247: In direct answer to your question Steamlands was by far the biggest title we have ever taken on (though Nitrome Must Die took a long time too). ... Interestingly we learnt [

sic

] this lesson from Steamlands but still went on to spend almost as much time on Nitrome Must Die..., 23 December 2014, retrieved 9 August 2014.
↑ Jay is Games: Link Dump Friday №247: Unfortunately I think the biggest lesson we have learnt [

sic

] with our bigger games is that spending more time on them really does not lead to much if any extra revenue., 23 December 2011, retrieved 9 August 2014.
↑ Jay is Games: Link Dump Friday №247: Interestingly we learnt [

sic

] this lesson from Steamlands but still went on to spend almost as much time on Nitrome Must Die so perhaps we will stubbornly still do it on occasion just for the reward of the game we get to make., 23 December 2011, retrieved 9 August 2014.
↑ Jay is Games: Link Dump Friday №247: When ad revenue dictates the time you can afford to spend on a game..., 23 December 2011, retrieved 9 August 2014.
↑ Pocket Gamer: Studio Profile: Nitrome: "We wanted to make something bigger than we have been able to make with our Flash games, which were constrained by a ceiling of what we might expect to get as a return in advertising,", 18 July 2013, retrieved 9 August 2014.
↑ Gamespy: Indie Spotlight #2: Flash, Bang, Boom: He [Mat Annal] also acknowledges that these funding models have a more limited return, and you have to learn to work within a smaller budget., 17 August 2010, retrieved 9 August 2014.
↑ Gamasutra: Interview: Nitrome's Annal on Keeping Their Retro Flash Game Ideas Fresh: I do still come up with a lot of the ideas myself..., 2 August 2010, retrieved 19 July 2014.
↑ Pocket Gamer: Studio Profile: Nitrome: "I find it a little uncomfortable to say that I come up with most of the ideas... but I do come up with most of the ideas.", 18 July 2013, retrieved 19 July 2014.
↑ Gamasutra: We ask indies: Aaron Steed, creator of Ending and Red Rogue: [Aaron Steed:] A lot of the stuff we do at Nitrome is out of Mat Annal's head., 8 January 2014, retrieved 19 July 2014.
↑ Gamasutra: Interview: Nitrome's Annal on Keeping Their Retro Flash Game Ideas Fresh: But I think that the reason we manage to get so many good ideas is more down to us opening it up, so that everyone in the team gets chance to pitch in their thoughts and be able to bounce ideas off each other., 2 August 2010, retrieved 19 July 2014.
↑ fgl: Nitrome - ActionScript programmer Job (London): At Nitrome every team member gets to put their own input and ideas into the games we make, so if you if you want to make some quality games with the benefits of a regular salary and top of the range artwork this could be the job for you., 29 July 2008, retrieved 19 July 2014.
↑ ': We ask indies: Aaron Steed, creator of Ending and Red Rogue: [Aaron Steed:] Him [Mat Annal] and his brother carry "idea books" around and have something of a process for constant game ideas., 8 January 2014, retrieved 19 July 2014.
↑ Gamasutra: Interview: Nitrome's Annal on Keeping Their Retro Flash Game Ideas Fresh: We have a monthly meeting where we sit round and discuss what we have came up with, and we each keep little books so we can write them down when we think of them…..., 2 August 2010, retrieved 19 July 2014.
↑ Gamespy: Indie Spotlight #2: Flash, Bang, Boom: "We [Nitrome] primarily work in teams of two, and when a team is ready to start a new project, they pick from the ideas we [Mat Annal, the artist, and the programmer] have approved together...", 17 August 2010, retrieved 21 July 2014.
↑ fgl: Chat Event - Nitrome: nitromeheather: Hardcircle: We tend to have two people working on a game at once - one artist and one programmer. We agree on an idea at the start and then try to brainstorm ideas with everyone in the office. It then takes between 3 and 8 we [weeks], 8 July 2009, retrieved 21 July 2014.
↑ Jay is Games: Nitrome stylesheet and interview!: We usually have a pretty set idea of what we are trying to achieve with the core concept and that usually ends up playing how we envisaged but we try not to pin the actual levels or elements down too tight early on and they usually evolve quite a bit based on what we think the game plays like when we have the basic controls working., 4 June 2007, retrieved 22 July 2014.
↑ Internet Archive Wayback Machine: Startfrag - Interview with Matthew Annal, Managing Director at Nitrome: Really it makes sense to keep your potential audience as wide as possible and it just happened that our first games had no blood and were very family friendly..., 22 November 2011, retrieved 22 July 2014 (page crawled 7 June 2012).
↑ Internet Archive Wayback Machine: Startfrag - Interview with Matthew Annal, Managing Director at Nitrome: when we diversified a little with our themes with some being a little darker we tried not to do anything that was going to spoil what we had already made…..., 22 November 2011, retrieved 22 July 2014 (page crawled 7 June 2012).
↑ Game Developer's Blog - Nitrome: Happy Friday = D → Comment by Jon Annal (jon): Nope we haven't stopped making "darker games"., 12 July 2014, retrieved 23 July 2014.
↑ 'Internet Archive Wayback Machine': Startfrag - Interview with Matthew Annal, Managing Director at Nitrome: ...the games get written using Flash Develop., 22 November 2011, retrieved 25 July 2014.
↑ 35.0 35.1 35.2 Internet Archive Wayback Machine: Startfrag - Interview with Matthew Annal, Managing Director at Nitrome: The art is handled either in a combination of Photoshop and Promotion depending on the artists preference and what he is doing,..., 22 November 2011, retrieved 25 July 2014.
↑ 36.0 36.1 36.2 36.3 Flashjolt: Interview with Nitrome's Matt: Matt: We use Photoshop for all the pixel art and some of the team use Promotion to animate where as others just animate directly in Photoshop., 18 May 2010, retrieved 25 July 2014.
↑ 37.0 37.1 Internet Archive Wayback Machine: Startfrag - Interview with Matthew Annal, Managing Director at Nitrome: ...most tools we have built up ourselves over time so we have our own custom level editors for example., 222 November 2011, retrieved 25 July 2014.
↑ Aaron Steed on Twitter: [1]: Made a new Nitrome platformer with @Mis_BUG http://www.nitrome.com/games/superstocktake/ … - the physics engine was a nightmare, but the end result was fun, 19 March 2013, retrieved 25 July 2014.
↑ Nitrome blog: - Icebreaker Coming to Android! (July 2nd 2013, first mention of Android version)
Nitrome blog: - Where is the Icebreaker Update? (April 8th 2014, mention of the Android version being complete)
↑ Game Developer's Blog - Nitrome: New Jam member! → Comment by Nitrome: Flightless is unfortunately still not being worked on...but it is not forgotten., 30 May 2014, retrieved 7 July 2014.
↑ Internet Archive Wayback Machine: Interview with Matthew Annal, Managing Director at Nitrome - Starfrag: With the Flash side of things bringing in the money it has always taken priority..., 22 November 2011, retrieved 23 August 2014.
↑ 42.0 42.1 42.2 Internet Archive Wayback Machine: Startfrag - Interview with Matthew Annal, Managing Director at Nitrome: Originally it was all funded through selling licenses [in this case "licenses" being synonymous with sponsorship] of our games, 22 November 2011, retrieved 30 August 2014.
↑ 43.0 43.1 43.2 Internet Archive Wayback Machine: Three Quarter Dpad - Steamlands: The Interview: We [Nitrome] made a game (Hot Air) to show what we could do to prospective clients and to see if we could sell enough licenses to gaming sites to cover the cost of making it. To our surprise we did so we made more and the rest is history!, 7 May 2011, retrieved 30 August 2014.
↑ FlashJolt: Interview with Nitrome's Matt: Incidentally it was very difficult to start with to make money from them [free flash games] but it got easier with time., 18 May 2010, retrieved 12 August 2014.
↑ Flash Gaming Summit on Facebook: Nitrome Interview at FGS 2010: ' 0:39 Probably about 85% of our revenue now comes from advertising, 10 October 2010, retrieved 6 September 2014.
↑ Pocket Gamer: Studio Profile: Nitrome: While the studio's output became popular enough to sustain a staff of around 15, it also provided easy pickings for cloners and copycats attempting to bringing Nitrome's ideas to mobile. [the topics surrounding this sentence (not listed here) all are from 2010] ', 18 July 2013, retrieved 12 August 2014.
↑ Gamespy: Indie Spotlight #2: Flash, Bang, Boom: Nitrome has been making free games for more than five years now, and the studio has grown from its two founders to a team of 10 over that time. "I think there is no question that it is sustainable," Annal says., 17 August 2010, retrieved 9 August 2014.
↑ 48.0 48.1 48.2 Game Developer's Blog - Nitrome: Great Ditto Fanart! → Comment by Jon Annal: I think it [Icebreaker A Viking Voyage development] was just before xmas 2011., 19 August 2014, retrieved 23 August 2014.
↑ Pocket Gamer: Studio Profile: Nitrome: "After two, two and a half years we hit our peak in terms of audience," explains Annal. "All of a sudden it leveled out then started to decline and I thought 'Okay, maybe we're just not making as good games'." That wasn't the problem. As Facebook games and mobile continued to rise, both Flash game audiences and the advertising revenue continued to fall. "The knock-on effect of less traffic and less revenue per person meant that we were probably making less than half what we used to," says Annal. "But our costs were the same.", 18 July 2013, retrieved 12 August 2014.
↑ on Facebook: Time for some Pixel Love! This week we have... → Comment by Nitrome: We are a really tiny studio and barely keep ourselves running most of the time!, 5 February 2013, retrieved 23 August 2014.
↑ on Facebook: No More Ads in Animation Rotator → Comment by Nitrome: @jordan: well I wouldn't exactly say we do very well. But we make just enough to pay the bills etc. :), 10 July 2014, retrieved 23 August 2014.
↑ 52.0 52.1 52.2 52.3 GameSpy: Indie Spotlight #2: Flash, Bang, Boom: "When we came to make our first game, we wanted something based purely around gameplay that hearkened back to the 16-bit era. Pixel art was a clear influence of that. Having spent my career up until that point mainly using vectors, it really was different for me, but it was something I instantly liked." When the team grew and other pixel artists came onboard, this further solidified the artistic direction, he says., 17 August 2010, retrieved 26 July 2014.
↑ 53.0 53.1 53.2 Gamasutra: Interview: Nitrome's Annal on Keeping Their Retro Flash Game Ideas Fresh: We were originally aiming for quite a cute style but we found ourselves wanting to explore some darker and edgier themes. So originally, Toxic and probably more so Dirk Valentine and Final Ninja were quite a bold change in art direction for us. I would put a lot of that down to new staff that came aboard broadening our outlook on what we should and could be doing., 2 August 2010, retrieved 29 July 2014.
↑ 54.0 54.1 54.2 Quote Unquote: The Last and Final Word: Matthew Annal: Partly, we kept the games pixel based and bright because that's what interested me at the beginning..., 12 April 2014, retrieved 29 July 2014.
↑ Game Developer's Blog - Nitrome: More 8-Bit Doves! → Comment by Nitrome: I think a lot of our games end up with bright graphics overall but we just try to make something interesting that suits the game mechanic., 31 July 2014, retrieved 31 July 2014.
↑ Internet Archive Wayback Machine: Startfrag - Interview with Matthew Annal, Managing Director at Nitrome: We definitely start with the core mechanic and fit the [art] style to fit with that. If the mechanic is quite abstract then it usually makes the art more abstract too., 22 November 2011, retrieved 29 July 2014.
↑ Nitrome.com - Contact - Building is identified as Nitrome Limited, also, on the map there is an arrow pointing to where the building is located, the arrow identifying the building as "Nitrome Limited"
↑ Jay is Games: Nitrome stylesheet and interview!
↑ Nitrome's Facebook page - Hi Nitromians!... | Facebook
↑ Nitrome blog: - Happy New Year Nitromians!
↑ Nitrome's Youtube page - Banner at the top (Google+ image next to Nitrome.com link)