You are viewing a spoiler page.

To display the spoiler message on this page again, please clear your browser cookies.
Monsterbrick is the second boss of the game Gunbrick mobile.
Appearance

Incomplete section. You can help by adding missing info.
Monsterbrick appears as a yellow square brick with a grate over the middle part that houses its pilot. The outside border is plated with metal. There are two red circles on the left and right sides of the brick.
Game information

Incomplete section. You can help by adding missing info. Needed: Information about the third phase.
The Monsterbrick boss fight is similar to the one with the large police gunbrick. The player has to shoot the boss's weak spots to damage the enemy.
In the first phase it moves to the left, then some platforms appear that the player has to go up on to shoot the weak spot.
In the second phase it moves back to the right. The player has to avoid being being run over by shooting up. When the boss stops moving, more platforms will appear, except they are at a higher elevation than the first phase. The player has to go down to shoot the weak spot again.
Walkthrough
Click [show] to see this video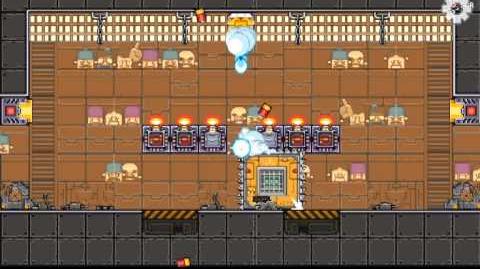 Stub article

This article is a stub. You can help Nitrome Wiki by expanding it like a balloon.
Ad blocker interference detected!
Wikia is a free-to-use site that makes money from advertising. We have a modified experience for viewers using ad blockers

Wikia is not accessible if you've made further modifications. Remove the custom ad blocker rule(s) and the page will load as expected.