Giant worm
Talk

4
1,922pages on
this wiki
Giant worm
Gender
Unknown
Species
Giant worm
Faction
Evil
Health
Long (possibly 50 hits)
Level
All
Status
Alive
Game(s)
Worm Food
The giant worm is the protagonist in Worm Food. He is the last of an extinct species of giant worms.
Appearance
Edit
Game information
Edit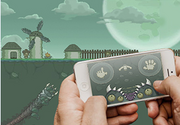 The giant worm resided in the ground. When it found out that the Stone Tribe had drove his species to extinction, and it was the last one, it was angered. Bent on revenge, it viciously attacked the Stone Tribe, devouring all the villagers in the area. The Stone Tribe tried to destroy this dangerous terror by doing many things, but failed.
They then asked the neighboring tribes for help. The neighboring tribes responded, and helped the Stone Tribe. The help from the tribes was not enough to destroy the underground beast. Through much battling, the beast was eventually killed.
Other appearances
Edit
The giant worm in many ways is very similar to the Rishi Eel from the Star Wars the Clone Wars television series. Both of them have almost exact appearances.