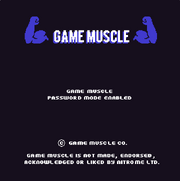 First making use of itself upon the release of Silly Sausage, Game Muscle is the name a cheating engine in a game cartridge created for the Nitrome Enjoyment System. It is meant to be attached to the bottom of a NES Game Cartridge via small orange rectangles. Both combined cartridges would be inserted into the NES to be played.
Functionality
Game Muscle allows for players to enter passwords that will affect the game's appearance or even the gameplay. Only one password can be entered at a time, since some would contradict each other, an example being CHICKEN, which grants players five hearts rather than three, entered against MUSCLES, which would give players one heart instead of three. If another password is entered into the system, it will override the existing activated password. Passwords can also be cancelled if an invalid password is entered into the system and then a player clicks "Continue".
See also
Silly Sausage for a list of passwords that can be entered into the Game Muscle system for the game.
Trivia
Game Muscle is a reference to Game Genie and Game Shark, Cheating Devices made for the Nintendo Entertainment System and Gameboy Advance.
All Game Muscle games may have cheat codes.
Silly Sausage is the only known game so far to have Game Muscle.
Ad blocker interference detected!
Wikia is a free-to-use site that makes money from advertising. We have a modified experience for viewers using ad blockers

Wikia is not accessible if you've made further modifications. Remove the custom ad blocker rule(s) and the page will load as expected.