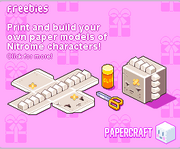 Freebies are items that are free to download from the Nitrome shop. The freebies page can be found by clicking on the shop button, and then clicking the "freebies" box. There are currently only three freebies available for download. The freebie page has all of the available freebies, the links to their games, and a link to print their design. When one of the freebie links to print the design are clicked, the individual page for that freebie loads. On that page there is a link to print the design and to get card paper from Amazon.
Currently, all the freebies are papercraft, where a player can print out the freebie paper design, and then fold the paper to make a 3-D Nitrome character.
List of freebies
Papercraft
Ad blocker interference detected!
Wikia is a free-to-use site that makes money from advertising. We have a modified experience for viewers using ad blockers

Wikia is not accessible if you've made further modifications. Remove the custom ad blocker rule(s) and the page will load as expected.