This article is for the general game. For the demo, proceed to Flightless Demo
This is an article about an upcoming game

The information on this article will be expanded and changed upon the game's release.
Flightless is a multiplayer platforming-exploration game that was being developed for the Mac and Windows operating systems[4]. The game was first announced through a preview image on September 27, 2011. More information about the game was revealed on October 15, 2012 and it was on this day that Nitrome posted the game to Steam Greenlight and released the game's demo. The game was greenlit on August 28th, 2013. As of March 21st, 2017, Nitrome is currently not working on Flightless[5].
Gameplay
Main article: Flightless Demo#Gameplay
Flightless is an exploration puzzle game where the players controls a duck. The game is described by Nitrome as a Metroidvania, mixing the elements of the 2D Metroid games and elements of the 2D Castlevania games. Flightless does not have any levels, but is instead divided up into rooms. Each room somewhere has an exit to another room. As the player is a flightless, jump-disabled bird, the player relies on creating magical ladders to progress through each room.
Creating a ladder will cause to move vertically up, until it hits a platform of wall. Upon coming to a stop, the player can climb up this ladder. The player at any time can move horizontally off the ladder, or continue climbing up it. The player cannot create a ladder while still on a ladder, the player can also only have one ladder at a time, creating another ladder causing the previous one to disappear.
Ladders can be used to kill enemies and get gems, but are mainly used for climbing to higher up areas. If a duck is killed, it will respawn in front of the entrance to the room they entered. Enemies can be killed by the player's ladder, however, the full game may have certain enemies impervious to damage from the ladder.
Demo
Main article: Flightless Demo
Enemies
Demo
Full Game (hypothesized)
Hazards
Development
Flightless entered development sometime in or before September 2011, a screenshot from the game being revealed on September 2nd 2011. Although it is not known whether the decision was made prior to unveiling the game or after, Flightless was going to be a Steam game, and on September 19th 2012 Aaron Steed asked his Twitter followers whether they wanted to test the game before it was pitched to Steam Greenlight.[6] This posting to Greenlight was later more publicly highlighted by Mat Annal in a Gamasutra interview, though the exact game going to Greenlight was not named.[7]
On October 15th 2012, Nitrome officially unveiled the game's demo and that it was pitched to Steam, directing people to go vote for the game.[8] At this point, Nitrome had to get enough votes in order to fill a bar up to 100%. Votes for the game managed to slow down as of November 9th 2013[9], although later the game managed to be filled to 98%[10]. On December 7th, it was announced that Flightless had filled the bar completely and reached the top 100 Steam Greenlight games yet to be greenlit[11]. From then on to when it was greenlit on August 30th 2013, Flightless mainly wavered between between spots 80-70 of the most popular Steam Greenlight games yet to be greenlit.
On December 7th (when it entered the top 100), it was placed at #85 on the list, later falling to #89[11], but almost regaining it spot by jumping to #86 on December 21st 2012[12]. On February 27th 2013, the game was pushed to #75, due to several Steam Greenlight games being greenlit.[13] The game was finally greenlit on August 28th 2013[14]
During the time it was in the top 100 Steam Greenlight games yet to be greenlit, Nitrome had half given up on the project[15], the game being greenlit surprising them.
The game becoming greenlit caused Nitrome to return to the project and decide what was to be done with it[16], prior to this happening no new advances in development being made[16]. Although the game's long time in the greenlight phase gave Nitrome lots of time to work on the full game, the game's length in greenlight negatively effected the game's development[17] to the point of Nitrome "half working" on the game[15].
In June 2014 Nitrome shared how they were not working on Flightless [18], and explained later on that this was due to lack of a larger dedicated team on the game, time, a proper structure, and also needing to finish some other projects before resuming work on the game. [19][20] As of November 2014 the game is still not being worked on.[21] In January 2015 Nitrome also added that they are not working on Flightless due to lack of funds for the project. [22]
In late June 2015 Nitrome shared how their reason for not working on Flightless had changed, saying that its development would not work with Nitrome's current setup of developing mobile games and expansions to them[23]. They said that in order to develop Flightless they would have to either be very settled in mobile and put aside a small team to work on it or integrate Flightless' development alongside work on other mobile games[23]. Nitrome also said that either of these possibles could eventually happen[23].
On July 2nd, 2015, Nitrome introduced the possibility that they may not return to development on Flightless[24].
Nitrome mentioned that they will look in to porting Flightless to other systems, including Linux[4].
Previews
| | |
| --- | --- |
| | Incomplete section |
September 27, 2011
Nitrome released a preview image of the game they were currently working on, also announcing the artist of the game.
September 19, 2012
The game's programmer, Aaron Steed, announced on his Twitter account that he wanted play testers for it before it was pitched to Steam Greenlight[6]. Playtesters assisted in the development of Flightless' demo.[25]
September 28, 2012
This game was accepted by Steam Greenlight.[26]
October 15th, 2012
The game's name was announced and a few videos were uploaded by Nitrome. A demo of the game was released on Nitrome.com.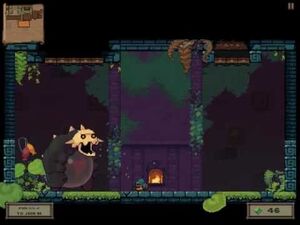 Advertisements
Main article: Advertisements
There are several advertisements Nitrome made in order to promote Flightless.
The first was a small advertisement placed in the "Nitrome" section of the main page. Clicking on the ad would link the player to the Flightless Greenlight page.
The second was an advertisement "banner" that was uploaded to Nitrome's Facebook page. This ad encouraged fans to vote for Flightless on Steam.
Also, another ad can be found when waiting for a distributable Nitrome game to load. After the sponsor ad, a randomly selected ad made by Nitrome will pop up- one of these being for Flightless. The ad encourages fans to vote for Flightless on Steam.
On December 12, Nitrome updated their site, adding several larger ads to their website. These ads included ones for Flightless. These advertisements encouraged fans to vote for Flightless on Steam.
Gallery
References
↑ 1.0 1.1 Aaron Steed tweet: https://twitter.com/st33d/status/248423171806617601
↑ Nitrome blog post: Game Preview! 27 September 2011
↑ Flightless on Sound Cloud: Flightless by Dave Cowen
↑ 4.0 4.1 4.2 Flightless Greenlight Game | Nitrome - •What will Flightless actually be released on?
We'd primarily be releasing Flightless for PC and Mac on Steam. We will then look into Linux and possibly other platforms.
↑ Game Developer's Blog - Nitrome: Bomb Chicken - Steam!, 21 Mar 17, retrieved 11 Oct 17.
↑ Gamasutra - Exploring smartphone-controlled browser games with Nitrome → You can also expect smartphone games from Nitrome in the near future -- including Icebreaker: A Viking Voyage -- and a full-blown PC game too which will be appearing on Steam Greenlight in the coming weeks.
↑ Nitrome blog: - Flightless Demo Released!
↑ Nitrome blog: - Friday Update!
↑ Nitrome blog: - Have you voted yet?
↑ 11.0 11.1 11.2 Nitrome blog: - Friday Update!
↑ Nitrome blog:</u> - Happy Christmas!
↑ Nitrome blog: - More Steam Greenlight Releases!
↑ 15.0 15.1 15.2 Nitrome blog: - Flightless has been Greenlit!
↑ 16.0 16.1 16.2 Nitrome blog: - Comment System Update! → Comment by Nitrome:

There is no more info on Flightless. We need to see what we are going to do with it first. Read the Flightless post (a few posts ago) if you have no idea what i'm [

sic

] talking about.

↑ Tweet by Nitrome: Greenlight had a negative impact on progress.
↑ Game Developer's Blog - Nitrome: New Jam member! → Comment by Nitrome: Flightless is unfortunately still not being worked on...but it is not forgotten., 30 May 2014, retrieved 30 May 2014.
↑ Game Developer's Blog - Nitrome: Mobile Page Update → Comment by Nitrome: We plan to focus on Flightless after we have finished a bunch of other stuff. It's not a good idea to try to do several things at once. And to make it the truly great game it deserves we need to put a larger dedicated team on it. We love flightless so have every intention of making it into a full experience. It just might take a long time is all., 17 July 2014, retrieved 22 July 2014.
↑ Game Developer's Blog - Nitrome: More 8-Bit Doves! → comment by Jon Annal: We love flightless and plan to finish it. We have made some more content after the demo you have all played. But cannot cope with too many big projects at the same time. To make it the great game it deserves we need the manpower, time and proper structure in place. At the moment as we are in the middle of several other things we do not., 31 Jul 14, retrieved 20 Jun 15.
↑ Jonathan Annal on Twitter: [1]: No news. We are currently working on other projects. And we can't do everything. We'll hopefully get back to it at some point., 2 Nov 2014, retrieved 2 Nov 2014.

In reply to Janeator: Hey guys, I know the mobile panorama is looking superb for you, but... any progress news on Flightless? thx :)
↑ Nitrome on Twitter: [2]: We will pick it up again in the distant future when we have the time and funds., 5 Jan 15, retrieved 5 Jan 15.
↑ 23.0 23.1 23.2 23.3 Game Developer's Blog - Nitrome: Vault!_screenshot → comment by Nitrome: We would really like to go back to flightless but it doesn't fit very well with what is currently working for us. In order to go back to it we would either need to be really settled in mobile and set up an additional team for that or try to make the game fit with our mobile plan. Either might happen given time but we're not currently ready to go there., 21 Jun 15, retrieved 21 Jun 15.
↑ Game Developer's Blog - Nitrome: Vault gameplay ! → comment by Nitrome: Just wanted to point out that if/when we bring Flightless back..., 2 Jul 15, retrieved 11 Jul 15.
↑ Frequently Asked Questions: "Can I help you/are you looking for beta testers?"
↑ 26.0 26.1 Gamasutra - Exploring smartphone-controlled browser games with Nitrome - and a full-blown PC game too which will be appearing on Steam Greenlight in the coming weeks.
↑ Flightless Steam page -

Nitrome [author] February 22nd, 2013, @ 9:06 PM

@Cokerow the game is made using Flash, we will be able to release it for Windows, Mac and Linux.

@MrMollusk if I can't buy food or pay the rent, then how will I make more games when I am hungry and homeless? :(

The price the game is sold for really depends on how much money is spent making it, it's still not finished - haven't even started the water levels yet (that's water done properly like we did ladders properly - not moving around like a snail hunting for air bubbles).


Ad blocker interference detected!
Wikia is a free-to-use site that makes money from advertising. We have a modified experience for viewers using ad blockers

Wikia is not accessible if you've made further modifications. Remove the custom ad blocker rule(s) and the page will load as expected.