For the game, see Final Ninja.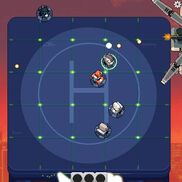 Final Ninja is an arena in Bump Battle Royale, serving as the sixth level in the campaign. This arena comes from the Final Ninja series, this particular area taking place in the city.
Appearance
The arena is square in shape with no walls or barriers of any kind. The arena looks like a helipad, with a blue circle and a large letter 'H' inside of it on the arena's floor. The outer border of the arena is dark bluish-black in color. Small hash marks are seen at intervals around the edges of the arena, making it appear as a five-by-five grid. Where the grid's lines would intersect are glowing, green floor lights. The arena is located very high up, probably at the top of a tall building.
Game information
The Final Ninja arena appears as the stage for level six of the Campaign. It is unlocked for Multiplayer mode upon completing it in Campaign Mode. On this stage, the player will fight against Takeshi, worker with cap, worker with hair, and worker with shaved head.
This arena has a hazard, the helicopter. The helicopter will appear on the left or right sides of the stage and a S.W.A.T. unit in the helicopter will fire bullets at the drivers on the helipad. The bullets will push drivers around when they hit them.
Preview
The Final Ninja arena appeared in a preview for Bump Battle Royale, this preview posted on the blog. The preview was in the form of a Vine video, and the first preview for a Nitrome game to be presented in this form of media. The stage was also previewed in a photo on a Facebook post by Nitrome.
Arena Specific Quotes
"Pew pew pew pew pew pew!"
Trivia
This is the first stage to introduce a hazard that fires projectiles at the drivers.
Although the helicopter has a S.W.A.T. unit on it, Final Ninja (the time period the level is placed in) takes place after Final Ninja Zero.
Ad blocker interference detected!
Wikia is a free-to-use site that makes money from advertising. We have a modified experience for viewers using ad blockers

Wikia is not accessible if you've made further modifications. Remove the custom ad blocker rule(s) and the page will load as expected.