Factory

Full skin
Released
April 8th 2010
Special
Least amount of characters
Avatars

Avatars related to this skin:
Factory is a skin on Nitrome.com. Released on April 8th 2010, the skin has several Nitrome characters being made in a factory. They are first made in metal, then spray painted in their colour, then all their accessories are put on, then they are cleaned and put into a box labeled "Nitrome gifts" and sent away.
Description
The factory skin displays a factory with a conveyor belt on the top, where different Nitrome characters are being assembled. To the left of the conveyor belt, the Twin Shot Angel is shown being colored. Underneath the top conveyor belt, other characters who are already colored and assembled are being given final details such as helmets or being dusted off.
Appearances
Interactive skin

The image below is an interactive skin. Mouse over anywhere to see the description of that object. Click on it to read more.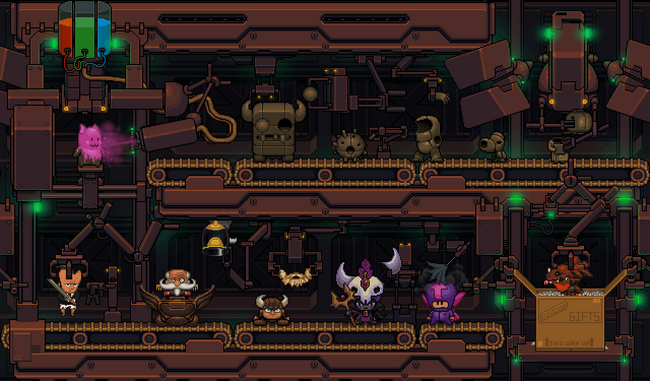 | | |
| --- | --- |
| Building robots (exclusively made for skin, not part of any games) | |
Ad blocker interference detected!
Wikia is a free-to-use site that makes money from advertising. We have a modified experience for viewers using ad blockers

Wikia is not accessible if you've made further modifications. Remove the custom ad blocker rule(s) and the page will load as expected.