Bad Iceberg

Full skin
Released
December 1, 2014
Avatars

Avatars related to this skin:

Unlockable avatars in this skin:
Bad Iceberg is the twentieth site skin released on Nitrome.com. It was hinted in a Nitrome blog post on November 26th, with a release on December 1st, 2014.
Description
The skin shows a bunch of Nitrome characters fighting a giant vanilla ice cream character.
There is a green boat which the flying man is seen sleeping in while sitting on a chair, the flying man pointing to the giant vanilla ice cream character which the soldier is shooting at. The communications satellite is at the far end of the boat.
Some icebergs are floating in the sea. Gunbrick dude is seen inside his Gunbrick on an iceberg. Another iceberg has a tank, missile pod and three robots attacking the giant vanilla ice cream character, with Billy on top of the character is eating a part of it. One robot is seen being destroyed. Submolok is seen flying in the air and is near Billy.
Multiple doves are flying towards the giant vanilla ice cream character and Radd Bradd is on top of its head, doing his death animation. The Polar bear, who is on a giant snowball, and Green Ninja are both inside the giant vanilla ice cream character's mouth.
The sea in the skin contains some seaweed, a squid half-submerged, and Coil is fully submerged with a frown on its face.
Appearances
Interactive skin

The image below is an interactive skin. Mouse over anywhere to see the description of that object. Click on it to read more.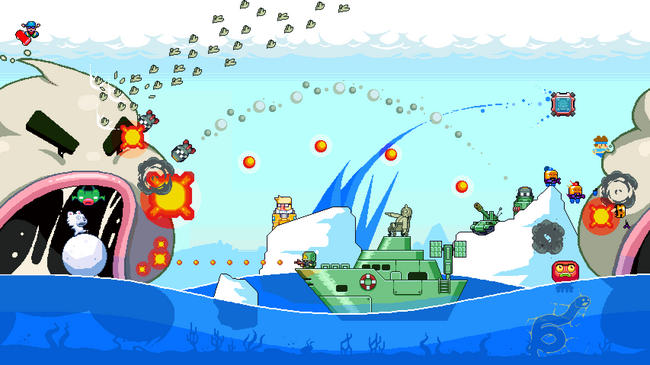 Gallery
Hidden avatar gift
On December 26th 2014, Nitrome hid an avatar gift in the Bad Iceberg skin, obtainable only by those who had a Nitrome account. Clicking the gift grants the viewer an avatar.
This navigational box contains a spoiler. Click [show] to open the box.
Hints
The skin includes characters that hint future games. These characters are:
A green frog inside the mouth of the vanilla ice-cream character. This was revealed to be Green Ninja from the game with the same name.
Three gold head robots appear on the right side of the skin, and of these robots one is exploding. These were later revealed to be enemies in Platform Panic.
A skateboarder that appears in the top left of the skin. He was later revealed to be Radd Bradd, a playable character in Platform Panic.
Trivia
Ad blocker interference detected!
Wikia is a free-to-use site that makes money from advertising. We have a modified experience for viewers using ad blockers

Wikia is not accessible if you've made further modifications. Remove the custom ad blocker rule(s) and the page will load as expected.